DO YOU FEEL STUCK IN YOUR RELATIONSHIP, EXPERIENCE RELATIONSHIP PROBLEMS?
Welcome to Therapy with Katerina Fager
Do you face relationship problems, a difficult  transition in your relationship, feel disconnected, deal with infidelity, poor communication, lack intimacy, or are you going through a divorce? I help individuals, couples, and families to develop some new skills and new ways to communicate and grow to create more satisfying relationships. I believe each person is unique and I focus on the particular circumstances presented by each person. I will actively work towards understanding your perspective, values, feelings and goals and I will work collaboratively with you to tailor treatment according to your needs.
My approach to therapy is systemic with psychodynamic, cognitive-behavioral and emotionally focused based elements. I provide Individual Therapy, Premarital Counseling, Couples Therapy, Discernment Counseling, Divorce Therapy and Divorce Mediation.
ABOUT ME
I am a Licensed Clinical Professional Counselor, Divorce Mediator and Author of How To Communicate And Co-Parent With Your Ex-Partner After A Divorce in the new book Stress-Free Divorce Volume 3. I write on topics of relationship and divorce and have been a guest speaker on podcast and radio programs.
I graduated from Northeastern Illinois University in 2014 with a Master's Degree in Marriage and Family Therapy and completed Divorce Mediation Training at Northwestern University. I have experience treating adults, children and families from diverse backgrounds. My area of experience includes treating anxiety, depression, trauma, complex trauma, post-traumatic stress disorder (PTSD), relationship challenges, ADHD, anger management and adjustment difficulties. I continue to educate myself in this field by attending workshops and trainings related not only to couples, but in general to counseling.
I have completed Level 3 Clinical Training in Gottman Method Couples Therapy and use Gottman Method in my work with couples. The Gottman Method Couples Therapy is based on Dr. John Gottman's research that began in the 1970s and continues to this day. The research  has focused on what makes relationships succeed or fail. From this research, Drs. John and Julie Gottman have created a method of therapy that emphasizes a nuts-and-bolts approach to improving clients' relationships.
This method is designed to help teach specific tools to deepen friendship and intimacy in your relationship. To help you productively manage conflicts, you will be given methods to manage resolvable conflicts and dialogue about gridlock issues. We will also work together to help you appreciate your relationship's strengths and to gently navigate through its vulnerabilities.
I believe that although each individual is unique, everyone has the ability to change, heal and move forward. My aim is to provide a warm, safe and accepting environment in which clients can better understand and manage their emotions. Therapy  can help you to feel better and have a better relationships.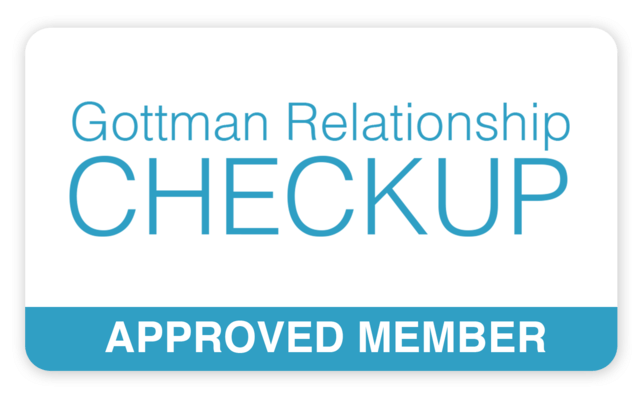 FEES & POLICIES
Payment is due at the time of the service. Cash or credit card only. Sliding scale available. Please call, or send an email to acquire.
Insurance accepted
BlueCross and BlueShield PPO,  Cigna, Aetna, United Healthcare, Humana
FAQs
After many years of being married, couples sometimes feel disconnected, don't communicate well, argue because of every small thing, lack intimacy, or deal with infidelity. If you don't take care of your relationship, it will become rusty and needs some fixing. This is the best time to seek Couples Therapy.
"After many years of being married and experiencing marriage crises, it was in the 11th hour when we came to see Katerina. Thank you. I recommend not to wait but to deal with your problems as they come."
"We came with the intention to work only on our communication and conflict resolution. But in therapy, so many other issues came up and we were glad. You need to face it and deal with it. We knew about those issues, but we didn't wan to deal with them. I recommend Katerina. She is a great therapist."
"Therapy with Katerina helped me work through my issues and see things in a new positive light. Her therapy sessions provided me with the life tools needed to move on with my life. "
"We argued a lot, felt really disconnected and were dealing with broken trust. After many sessions we started to see progress and our relationship started to heal. I recommend Therapy with Katerina. It was extremely helpful and I am grateful."
"I can only recommend Therapy with Katerina. With her guidance I see things differently now and I am at much better place. Thank you."
I will be happy to answer your questions
Therapy with Katerina Fager